With what could be another 9-12 weeks of flu season still to come, flu prevention efforts are more important than ever, especially for those with already compromised immune systems such as the elderly, pregnant women, children and those already in the hospital.
For the first time in the history of its reporting the Centers for Disease Control and Prevention (CDC) data revealed that the 2017/2018 flu season came in strong with flu activity striking almost every region of the continental U.S at the same time. Since flu season monitoring began on Oct. 1, 2017 flu activity has remained widespread hovering at or above the national average for 13 weeks with numbers rising sharply to nearly 42 people per 100,000. Flu related deaths have also increased and as of Feb 22, 2018, stand at 9.5 percent.
If you or a family member plan to visit a hospital this flu season, be sure to take precautions to keep yourself – and others – safe. Even if you show no symptoms of illness, the flu virus and other infections can live on surfaces for up to 24 hours, increasing your chances of self-contamination and/or spreading the virus to others.
When it comes to reducing the prevalence of these healthcare-associated infections (HAIs), hand hygiene is key. As one of the most serious, yet preventable threats to patient safety in healthcare facilities, HAI prevention through proper hand hygiene is a top concern among healthcare institutions
If you do plan to visit the hospital, here are some tips for preventing the spread and acquirement of an infection:
If you are exhibiting symptoms of the flu, stay home! According to the CDC, most people are at peak contagiousness in the three to four days after becoming sick, but you may be able to infect others from one day before, to up to seven days after developing symptoms.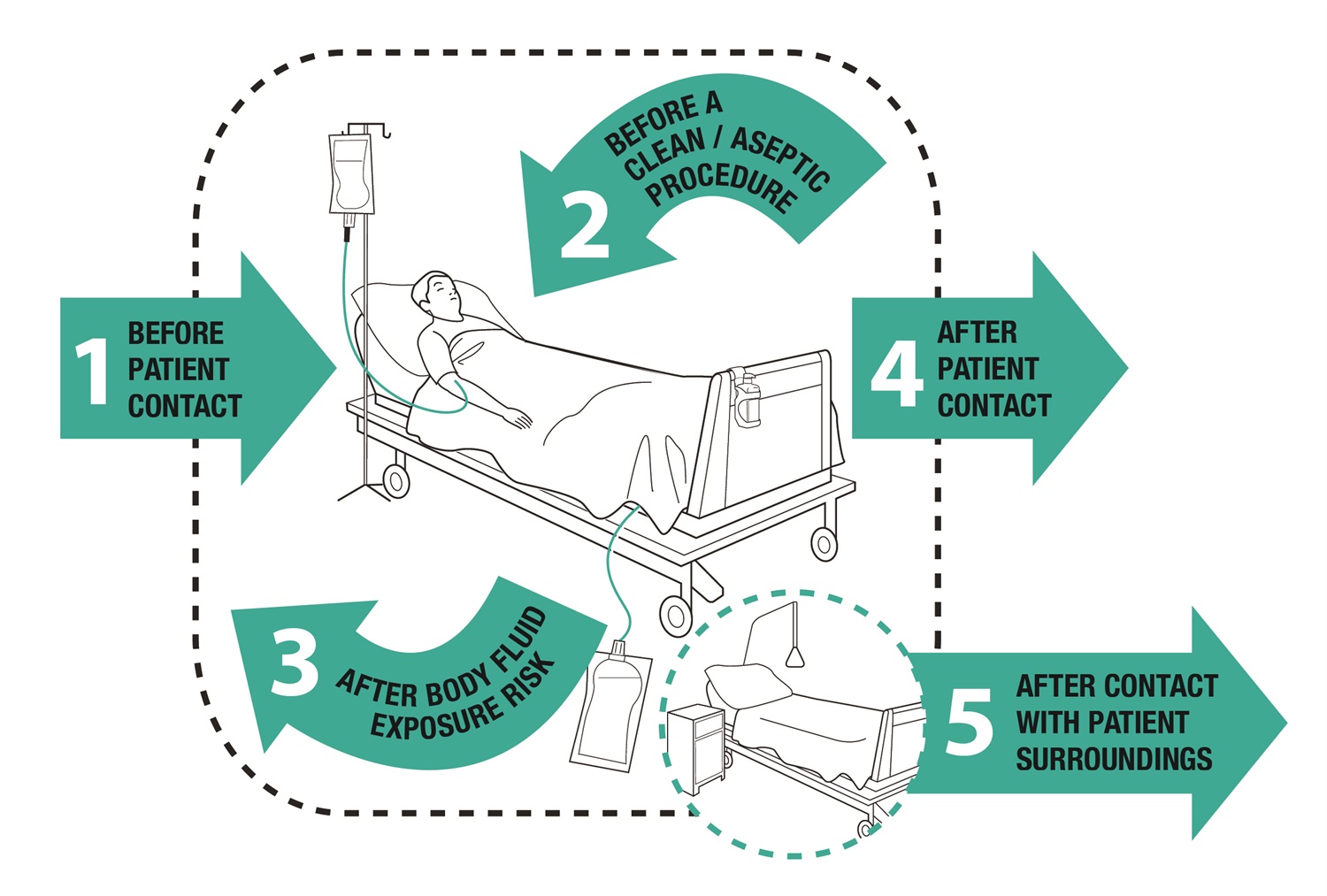 When entering a patient room, apply hand sanitizer to decrease transient bacteria and reduce the risk of cross-contamination between visitor and patient. Most hospital facilities have hand sanitizer stations throughout hallways and outside of patient rooms.
Clean hands

after exposure to bodily fluids, including your own. This can be something as innocent as a sneeze. This will protect not only the patient, but the healthcare workers caring for the patient and help to limit the spread of infection-causing pathogens both in the room and between rooms.


Clean hands

after touching a patient or any of the patient's immediate surroundings,

such as the patient's clothes or gown, hospital bed, exam chair, remote, call button, etc.


Clean hands

after touching any object in the patient's room, such as high-touch surfaces such as door handles, bed railings, chairs, countertops, etc.


Be sure to do your part when visiting hospitalized patients this flu season. Effective hand hygiene and infection prevention measures are an essential step in staving off HAIs. Not only can they save your life, but the lives of other patients, visitors and hospital workers as well.
Click to view the article originally

published Feb 14, 2018 on the DebMed Blog,